Hello,
Dans cet article, je vais vous présenter comment générer des alertes de sécurité pour Azure Defender et ce directement depuis le portail Azure.
La génération d'alertes peut-être intéressantes si vous souhaitez réaliser des « Firedrills » par exemple.
Pour cela je vous donne rendez-vous au sein du service Azure Security Center, puis je vous invite à cliquer sur « Security Alerts » et enfin sur « Create sample alerts ».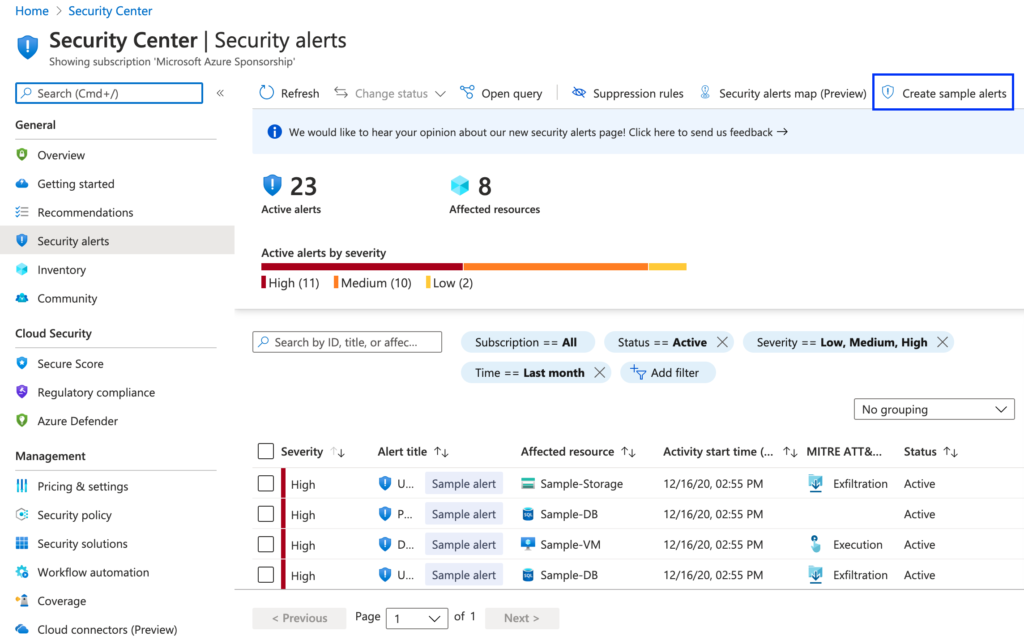 Les alertes suivantes peuvent être générées:
App Service / Suspicious WordPress theme invocation detected
App Service / Phishing content hosted on Azure Webapps
App Service / Attempt to run high privilege command detected
AKS / Exposed Kubernetes dashboard detected
AKS / Container with a sensitive volume detected
AKV / Access from a TOR exit node to a Key Vault
AKV / High volume of operations in a Key Vault
AKV / Suspicious secret listing and query in a Key Vault
SQL / Unusual export location
SQL / Attempted logon by a potentially harmful application
SQL / Logon from an unusual location
SQL / Potential SQL injection
Storage / Unusual amount of data extracted from a storage account
Storage / Unusual change of access permissions in a storage account
Windows / Detected Petya ransomware indicators
Windows / Executable found running from a suspicious location
Maxime.